AFC North: 2011 Worthless Predictions
September 4, 2011
Streeter Lecka/Getty Images
Did you know that since 2002, the Pittsburgh Steelers have won the AFC North five times? That's not surprising. However, surprisingly the Bengals have the same amount of division titles (two) than the Baltimore Ravens (two).
Cleveland? Yeah...not so much.
Pittsburgh Steelers
Offense
The Steelers' offensive line will once again be the story heading in 2011. Some of the stories will be good, as Rashard Mendenhall should be one of the better backs in football again this season. However, some stories will be bad.
The focus will be on that pass protection (and I use that word "protection" loosely). The Steelers gave up 42 sacks last year, second only to Chicago. They did the right thing by dumping Flozell Adams, along with 600-pound Max Starks. Still, I don't see any pieces that were added that will make things easier for Ben Roethlisberger.
Still, after the past seven seasons, Big Ben has learned to live with the beatings and when he's not busy getting nailed, he's actually a pretty decent passer. His top target is no longer dancer/DUIer Hines Ward, but Mike Wallace. His 21 yards per reception makes him the premier deep threat in this league behind only DeSean Jackson.
Defense
The Steelers are loaded on the defensive side, especially with veteran, championship-caliber talent along the front seven. James Harrison is getting up there in age, but he's still a monster. However, don't be surprised if LaMarr Woodley leads the team in sacks this year. Along with interior linemen Aaron Smith, Brett Keisel and nose tackle Casey Hampton, the Steelers will continue to produce hell on Earth for most quarterbacks.
Yet, if a QB can get a pass off, they'll probably hit their target. That's why Pittsburgh grabbed cornerbacks Curtis Brown and Cortez Allen in the 2011 draft. The problem is, I can't see them helping out too much this year. That's why this team will once again ask Troy Polamalu to be Mr. Everything. Question is, can he stay healthy? If he can't deliver 90 percent on that field, this defensive backfield can be abused.
Results: 13-3
The Steelers actually do have legit concerns heading into the season (offensive line, aging veterans, pass defense), but guess what, those concerns were all there last season and they still found themselves in the Super Bowl. The Steelers actually have a tough first month as they'll face three potential playoff teams (Ravens, Colts, Texans) all on the road.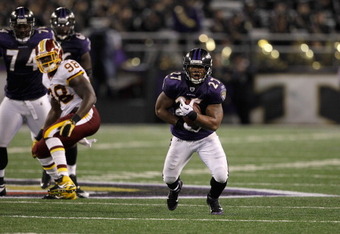 Rob Carr/Getty Images
However, no team has it easier down the stretch. In their final seven games, they'll face only one team that was a playoff team last year—Kansas City—and they are not expected to return this year. In fact, of the final seven, only St. Louis is a playoff contender (and that has more to do with the Rams playing in the awful NFC West).
Hell, if you want to get crazy, their only two toughest games after Week 5 will be back-to-back games in Weeks 8 and 9 against the Patriots and Ravens, but both of those games are at home. They could easily be on a 10-game winning streak heading into the postseason, although I'm predicting a defeat in there somewhere. I'm just not going to tell you where. 
Baltimore Ravens
Offense
So let me get this straight, the Ravens dump Derrick Mason, Todd Heap and Torrey Smith and bring in Lee Evans of all people? And you wonder why Joe Flacco hasn't developed into an elite quarterback. Heading into 2011, his top two targets (Anquan Boldin and Lee Evans) will both be on the wrong side of 30 and let's face it, they've both have already played their best ball.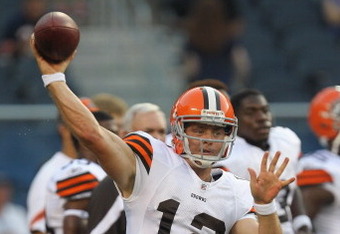 Jonathan Daniel/Getty Images
Luckily, the Ravens have a young Ray Rice to hand the ball off to a lot. Now last year, Rice did produce over 1,200 yards rushing, but he needed 300-plus carries to do it (at just four yards per carry). Not great numbers. To improve this, they've added Vonta Leach, arguably one of the best lead blockers in the league. Don't believe me. Who do you think opened up all those holes last year for Arian Foster down in Houston?
Defense
While quarterbacks, running backs and wide receivers get all the headlines and fantasy love, if you want to find a common theme on the league's best teams, look no further than a team's front seven on defense. The Ravens are one of those teams.
Obviously, the headliner is Ray Lewis, a lock for the Hall of Fame, but he's getting up there in age and he might not even be the first or second best linebacker on this team, as Jarret Johnson and Terrell Suggs are excellent as well. On the D-line, Haloti Ngata does the real damage.
Out back, the Ravens will need to replace starting safety Dawan Landry and cornerback Josh Wilson. The Ravens are pretty solid at the corners, but they'll have a harder time filling the safety spot. Luckily for whoever gets the job, they'll get to work next to all-stud Ed Reed.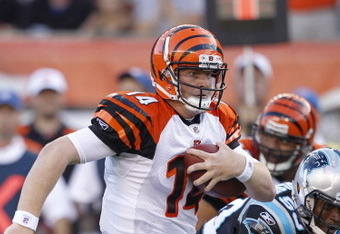 Joe Robbins/Getty Images
Results: 12-4
The Ravens will once again play it safe on offense, three yards and a cloud of dust.
They won't be looking for their offense to put up a ton of points, just to not do any damage and let the defense do their work.
Luckily for them, despite being one of the top teams in 2010, Baltimore will only face four teams all season long that played in last season's postseason (the Steelers twice). They'll only face one of them on the road (Pittsburgh). The Ravens should easily be back in the postseason, but I don't see enough pieces to pass up the Steelers for the division lead.
Offense
And just like that, the Eric Mangini era ends in Cleveland as expected. Mike Holmgren finally gets to bring in one of his guys to be head coach, Pat Shurmur.
Shurmur has been an assistant coach for 12 seasons, mostly with the Eagles. However, he was given a ton of credit for his work with Sam Bradford last year as St. Louis' offensive coordinator. Now the question is, can he do the same trick with Colt McCoy?
McCoy played in nine games as a rookie, and he actually led the team to wins over the Patriots and Saints. That in itself is pretty impressive. He did also manage to hit 60 percent of his passes, but only threw six touchdowns to nine interceptions. Since McCoy works better with short, accurate throws, the Browns' offense will turn to the West Coast offense.
Of course, the challenge for Shurmur and McCoy will be to find some decent receivers to throw to. While it's still early in their careers, it's becoming clear that neither Mohamed Massaquoi nor Brian Robiskie are going to be stars in this league, and Josh Cribbs was built for special teams. The Browns went and got Greg Little. People are raving about this kid because he reminds some of fellow Tar Heel Hakeem Nicks. Even if the comparison holds true, it's going to take Little more than a season develop.
Obviously, then the Browns will rely on the running game. The decent O-line is led by LT Joe Thomas. While the Browns' big men aren't going to make too many Pro Bowls, they certainly can create enough space for star running back Peyton Hillis. Heading into 2011, look for Cleveland to give Hillis more rest as he broke down towards the end of last year. Brandon Jackson was supposed to be that guy, but he got hurt. This could end up being a good thing since I consider Montario Hardesty to be the better backup, even coming off an ACL tear. 
Defense
Gone is beauty queen Rob Ryan as the defensive coordinator and in walks Dick Jauron. I'll be honest, I'm not sure what Jauron has done to earn himself a job in this field. Prior to his work in Jacksonville, I can't recall anything special coming out of his work in Buffalo or Green Bay. He was the defensive coordinator for the Jaguars when they went to the postseason three out of four years, though.
Jauron was able to parlay that success into a long-failing head coaching career, first with the Bears, then for a brief moment as an interim for the Lions, followed by three seasons in Buffalo. In ten-and-a-half seasons as the man in charge, he produced nine losing seasons. He had one miracle 13-3 run with the Bears in 2001, where he actually won AP Coach of the Year, but they failed to win a playoff game. That's it.
Having said all that, Jauron is the man in charge of the defense, and he will be switching from the 3-4 back to the 4-3. The problem is, they don't really have the personnel for this. Players like Marcus Bernard, Scott Fujita and Chris Gocong are meant for the 3-4. The question is, if you're going to switch styles, you better go out and get guys who fit the system.
They did add Baylor nose tackle Phil Taylor via the draft. Add his 330 pounds next to the 320-pound Ahtyba Rubin and you got 550 pounds in the middle of the line, ready top stop the run. The question is, who will put pressure on the quarterback?
If anyone on the Browns can rush the passer, it will only help out two solid sophomores in the back field, corner Joe Haden and free safety T.J. Ward.
Results: 5-11
The hard part about being in the AFC North is that Cleveland has to face both Pittsburgh and Baltimore twice every season. The good news is, they share the division with the Bengals, so they probably avoid being last.
It's going to be a transition year for Cleveland. They'll see some good things, such as the development of Colt McCoy and Greg Little. However, I suspect the defense struggles mightily. The Browns do have a favorable schedule. Plenty of teams I don't expect to be playoff teams in 2011 will be visiting the Dog Pound, including Cincinnati in Week 1, followed by Miami, Tennessee, Seattle and Jacksonville. Those are all winnable games. However, the Browns could easily finish the season losing their last five. They have a three-week road trip and oh by the way, they face the Ravens and Steelers four times after December. 
Cincinnati Bengals
Offense
2011 is going to be an interesting year for the Bengals' offense. First, they'll be starting a rookie quarterback, Andy Dalton. Out of all of Dalton's potential targets, Jerome Simpson is the aging vet of the group at just 25 years of age. Jordan Shipley is only in his second season, while A.J. Green is a rookie, though, he has the brightest future.
Dalton's favorite target will end up being tight end Jermaine Gresham, but he's only in his second year. Let's just be clear about the math here, the Bengals' passing game (one QB, three wide outs and a TE) have a combined five years of NFL experience. Ouch.
The bright spot for new offensive coordinator Jay Gruden is that the offensive line is a veteran group and a pretty good one at that. Led by right tackle Andre Smith, the big men up front could open up some holes for another veteran, running back/prison inmate #36745 Cedric Benson.
Defense
Last season, the Bengals' defense got better as the season went along. By season's end, they were pretty effective. In fact, they held their last three opponents to under 20 points. Not bad, though, it was just three games.
For Cincinnati, the strength is at linebacker. Rey Maualuga and Keith Rivers are already solid, but the duo became a solid trio when the Bengals picked up Many Lawson from San Francisco. Lawson should thrive on the strong side in the 4-3 defense.
The Bengals had a couple of stars at cornerback, but Johnathan Joseph left them for more cash in Houston. They did manage to sign another 49er in Nate Clements, but at his age, I'm not sure how great he can be. On the bright side, he won't be asked to defend the opponent's top wide receiver. That job will fall to Leon Hall (right), one of the more under-appreciated corners in the league.
Of course, in the end, everything comes down to their young defensive line. If guys like Carlos Dunlap, Antwan Odom and Geno Atkins can put some pressure on the quarterback, the Bengals' top-15 defense in 2010 can become a top-10 D in 2011.
Results: 3-13
As much as there is a reason to be excited about the Bengals' defense, the offense is going to be just awful. Yes, Dalton can one day be a solid NFL quarterback, but out of all the rookie quarterbacks taken in the first couple of rounds during this year's draft, Dalton, with this receiving core, might be the last one I'd want see starting.
Looking at the schedule, the Bengals have a manageable first eight weeks. They face only two 2010 playoff teams during that time (Indianapolis and the Seahawks) and only one team (Indianapolis) do I see as a playoff contender this year.
However, the final eight weeks features six teams I'm predicting to be in the playoffs this year (including Pittsburgh and Baltimore twice), plus, a rivalry game at home against Cleveland.  Still, no Patriots, no Jets, no Chargers or Chiefs and they'll be facing the weak NFL West. Having said all that, I still don't see a lot of wins this year for the Bengals, and you can kiss Marvin Lewis goodbye by the time the season ends.