PGA: Who Had the Best "59" on PGA Tour History?
September 12, 2011
Gary Newkirk/Getty Images
There have only been five men to ever record a score lower than 60 on the PGA Tour. Al Geiberger was the first to post the mystical 59 at the 1977 Danny Thomas Memphis Classic on the Par 72 Colonial Country Club. Since then, Chip Beck, David Duval, Paul Goydos, and Stuart Appleby have signed cards with a score of 59 in a PGA Tour sanctioned event.
Al Geiberger won 11 PGA Tour events including the 1966 PGA Championship and added another 10 wins on the Champions Tour, but he will always be remembered as "Mr 59". He carded a bogey free round that included 11 birdies and one eagle. Geiberger was never scary off the tee, but once he got around the green, he was a perennial leader in the chipping and putting categories. It all came together on one magical day in 1977 and for the golfing world Geiberger's 59 was on par with breaking the four-minute mile. It was a barrier that few thought could be broken.
The golf world had to wait another 14 years until straight hitting Chip Beck posted a 59 in the third round of the 1991 Las Vegas Invitational on the par 72 Sunrise Golf Course. His round included 13 birdies, including tweeters on 16, 17, and 18, to finish the dream round. The conservative Beck had a very solid career with 4 wins, held the No. 1 Official World Golf Ranking for 40 weeks in 1988 and 1989, played on three Ryder Cup teams and won the Vardon Trophy in 1988.
He also amassed 20 runner-up finishes including the 1986 and 1989 U.S. Opens and the 1993 Masters. At the tender age of 47, while playing in a Nationwide Tour event in Omaha, he recorded only the second ever double eagle, hole-in-one, on a par four in PGA history.  Always positive and upbeat, Beck is probably the most under appreciated successful professional golfer ever.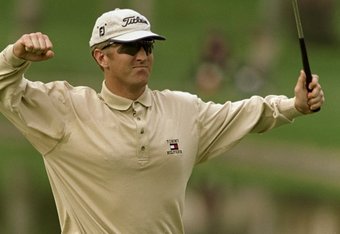 Harry How/Getty Images
The enigmatic David Duval eagled the last hole of the 1999 Bob Hope Chrysler Classic at LaQuinta for a 59 and the tournament win. After a very successful collegiate career at Georgia Tech, the four time All-American played on the Nationwide Tour for two years before earning his way into the Big Show. From 1997 to 2001 Duval won 13 times including the 1999 Players Championship and the 2001 British Open.
Even with the 59 on his resume, Duval will be most remembered for more or less walking away from golf after his win at Royal Lytham & St Annes.  He took a sabbatical from the game, has not won since and has struggled to keep his PGA Tour playing privileges.
If you ask Paul Goydos, he would probably tell you with his self-depreciating sense of humor that he is the most unlikely golfer ever to shoot a 59. Although he has won twice on the PGA Tour, he was the oldest player to ever record a 59, being 46 years old, when he shot his during the third round of the 2010 John Deere Classic. The journeyman golfer has had a long but not so illustrious career on the PGA Tour filled with injury, personal tragedy and heartache.
Less than a month after Goydos got his 59, Stuart Appleby recorded a 59 during the final round of the inaugural Greenbrier Classic. Appleby has had a long career on the PGA Tour after migrating from Australia. He has nine PGA Tour wins and has been a member of the International Presidents Cup Team on four occasions. Appleby has also experienced personal adversity. He lost his first wife in a freak car accident in London in 1998.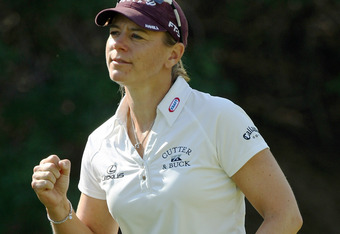 David Cannon/Getty Images
Although not on the PGA Tour, I would surely be remiss if I didn't mention another exceptional 59 recorded during competitive play. LPGA Golf Legend, Annika Sorenstam won more than 90 tournaments worldwide, including 10 women's major championships, achieved every award and broke every record possible in women's golf, but she will tell you that her greatest and most memorable achievement was the 59 that she shot at the 2001 Standard Register Ping Tournament held at Moon Valley Country Club.
Her nearly perfect round included 13 birdies, no bogeys and just 25 putts on the 6,459-yard course, she missed just one fairway, reached every green in regulation, and her longest par putt was only 3.5 feet.
When he was just 15 years old, golfing phenom Ryo Ishikawa became the youngest player to ever win on the Japan Professional Golf Tour, and he is also the youngest player to ever break into the top 100 in the Official World Golf Rankings (OWGR).
On May 2, 2010 he recorded a -12 under par 58 at The Crown's on the Japan Golf Tour and won the event by six strokes. It was a par 70 golf course, but it is the lowest score ever posted during competition on a major golf tour.  Ryo doesn't turn 20 until September 17 is currently ranked 42 in the OWGR and has one of the brightest futures of any golfer in the world today.
Which of these truly unbelievable  scores qualifies as the best round ever? I tend to prefer "Old School" and lean toward Al Geiberger. His was the first ever recorded on a par 72 golf course and before all the Hi-Tech clubs and high trajectory, low spin golf balls of today. A close second, however, would have to be Annika's 59 in Phoenix, albeit not on the PGA Tour, she is the only female golfer to have broken the 60 barrier. While the other five are all memorable, made a tremendous impact on golf and was a major boost for each golfer's career, "Mr. 59" stands a little taller than the rest, he was 6' 2" after all.