Atlanta Hawks: The Rise of Jeff Teague
September 13, 2011
Kevin C. Cox/Getty Images
I don't know if I can pinpoint the exact moment when I realized he'd make a name for himself in the NBA.
It could have been his breakout performance against North Carolina when he dropped 34 points representing the old black and gold (Wake Forest), or the vicious slams of his college days that made opposing schools shrink with inferiority.
It could have been a number of things that I deduced from my dissections of his college performances, but there was something about Jeff Teague's game that nagged me. Something about his game that drew me in and made me believe.
In no way, shape or form am I suggesting Teague has already carved his niche in this league as a star, or even a decent role player. I mean, he's been floundering on the bench for the majority of his two-year career, and his limited regular-season opportunities never featured acclaimed success.
Having said that, it's impossible to ignore the potential that oozes out of him with each bounce of the basketball. He may not be a star, or even a rotation player yet, but the days of his talent wasting away on the bench are long gone now.
His playoff performance changed everyone's perception of his game entirely, but really all he did was tweak the little things. His atrocious decision-making and forced floaters through limited time in the regular season plagued his overall production.
But a few tune-ups turned bad passes into good passes, floaters bricking from the free-throw line into gentle five-foot lofts, tickling the nylon. His speed was finally displayed as he dazzled with crossovers and steals, fast breaks and penetration. The Hawks were finally showing how dangerous they could become with a dynamic point guard who could get inside the paint and make smart decisions.
Still, Teague is far from where he needs to be. His jump shot is flat and wildly inconsistent. His decision-making is improved but still suspect, and his ability to legitimately set players up is still a work in progress.
Keep in mind he's only been in the league for two seasons, and has never received ample playing time aside from his series against Chicago in the playoffs.
Still, what a way to trigger a career. He didn't get his feet wet and slowly submerge himself in the treacherous NBA waters—he dove off the high dive while strapping up league MVP Derrick Rose in his first-ever legitimate opportunity.
What's really important about the emergence of Teague is not the fact that he's finally broken the mold and is embarking upon his own quest for NBA greatness—it's that this gives the Hawks a whole new dimension.
The zestful and active point guard will do nothing but ignite the offense of a playoff team that has squandered away opportunities due to a general lack of offensive production and a significant amount of confusion and isolation sets. A multifaceted point guard can take away those problems, and that's why Hawks fans should be excited if this lockout ever comes to a close.
He brings so much to the table both offensively and defensively. His positive energy and recent eruption is something new owner Alex Meruelo could use to revive a city of fickle basketball fans that haven't felt a true spark since the days of Dominique Wilkins. (But I will say that the 2008 playoffs were rather magical for Atlanta. The fans really came out in full force.)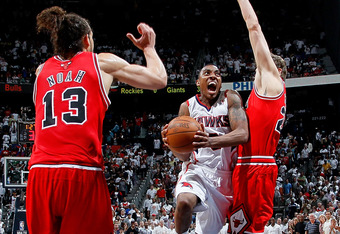 Kevin C. Cox/Getty Images
He won't get torched defensively, as he's far from a liability. In fact he's a huge asset defensively as his steals kick-start the fast break and his generally solid stance and lateral quickness pay huge dividends when compared to his predecessor (Mike Bibby). His recent decision-making improvement directly resulted in a lower turnover rate, and his killer speed with the ball in his hands allows him to blow by his defender. 
Could Mike Bibby ever claim any of those things? His lateral quickness at this point is that of a turtle, his decision-making was incredibly suspect during his stint with Miami and the last time Bibby blew by a defender he lived in Sacramento. 
With that dilapidated and aging point guard above, the Hawks were able to make three straight playoff appearances, take an eventual champion to Game 7 and make the second round twice.
I don't want to downplay Bibby's impact in the first two years. His veteran leadership and savvy gameplay in his early Atlanta days are what pushed the Hawks over the hump and made them a playoff team. But the Hawks survived, and even thrived with Kirk Hinrich in his place.
The Hawks gave the Bulls a scare thanks to a scrawny and athletic 6'1" point guard, and the fact that he's only just begun shouldn't be enough to scare only the Bulls.
It should scare you and your team too.