Arian Foster Injury: It's Time to Stop Overreacting
September 18, 2011
Every time I look at a Fantasy Football or NFL news website, I see countless articles talking about how Arian Foster will be the biggest bust of fantasy drafts or he's a wasted first round pick. Really? After Week 1, we're already making this assessment? The guy missed one game, he's healthy and expected to play in Week 2, and yet he's already the biggest fantasy bust of the season?
It's not like he's Tom Brady in 2008. A top five pick in almost every draft after his record-setting year with Randy Moss, who then got hurt for the season in the first quarter of Week 1. That's a good situation where you call a first round pick a fantasy bust after Week 1. But Foster has missed one game so to me this seems a little bit of an overreaction.
And to all of the naysayers who still disagree with me, here is why you're a little premature.
1. The Ben Tate argument:
Most of the articles I have read seem to revolve around Ben Tate stealing the starting job, or at least forcing a time share or dual back system. While this may be true for Week 2, I don't see it happening the whole season.
First of all, Foster was the leading rusher of the season. I don't care how well your backup plays when you're hurt for a week, you don't lose your hold on the starting job that easily. Especially when your backup is an unproven second year running back who could have easily had a lucky game against a weak run defense. I don't know about anyone else, but I'd rather roll with the guy who's coming off a spectacular season.
Furthermore, even with a great performance last week, Tate still was unable to live up to Foster's performance last year. Let's look at the numbers between Tate's Week 1 performance against the Colts this year and Foster's Week 1 performance against the Colts last year:  Foster had 231 rush yards to Tate's 116. Yes, Tate had fewer carries, but Foster also had a higher YPC at 7.0 to Tate's 4.8. Foster also had three TDs to Tate's one. You see where I'm going with this yet?
Finally, Tate's Week 1 numbers against one of the worst rush defenses in the league barely match up to Foster's 2011 averages. During 2011, Foster averaged 101 rush yards per game, 4.9 YPC, and 38 receiving yards per game. Keeping in mind that those include some games against tough defenses (Jets, Eagles, Ravens, Chargers), Foster's numbers are far more impressive.
2. The Injury Prevention Argument:
I've also seen several articles saying that the Texans need to run a dual back system to keep Foster healthy and fresh throughout the year and for the playoffs (if they make it). Where is this argument coming from? Foster had almost 400 touches last year and had no injury issues all season. And what makes you think he'll get tired as the season wears on? Foster's last four games included one rough game (61 total yards and zero TDs in Week 15) and three great games: 125 yards against the Ravens in Week 14; 135 yards and one TD in Week 16 and 190 yards and two TDs in Week 17. But people think he's gonna wear down towards the end of the season? He missed Week 1 and he'll likely be somewhat limited in Week 2, so really it seems like he'll be set up perfectly to play some of his best games in the playoffs if last year is any indication.
3. The Texans are not Loyal to Running Backs
People say that they gave up on Slaton when he got hurt, so they might give up on Foster, but there are so many flaws to this argument it's almost not worth addressing. But whatever. I'm bored and there are stupid people out there who actually believe this crap, so let's get into it.
Problem #1: Slaton's big year was 2008 with 1,650 total yards, 10 total TDs and 4.8 yards per carry. He got hurt in 2009 after a mediocre first 11 games (437 rush yards, 3.3 YPC, three TDs, 417 receiving yards, four TDs). Not bad, but with less than 80 total yards per game and less than 40 rush yards per game, he certainly wasn't living up to the expectations set after 2008. He then had a terrible 2010 preseason, averaging less than three yards per carry. Slaton's declining performance was likely a large factor in him losing the starting job.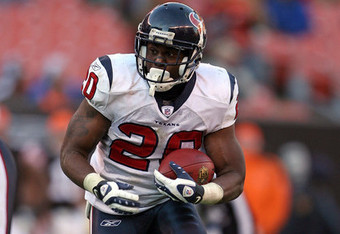 Problem #2: Foster did not come out of nowhere. In the last two games of 2009, Foster had 216 rush yards, 26 receiving yards and three TDs. One of those games was a 119 rush yard, two TD, 26 receiving yard performance against the Patriots, so it's not like he was beating up on weak defenses like the Colts. Foster had set the stage to steal the starting job long before the 2010 season even started.
Tate, on the other hand, is in his first NFL season after getting hurt last year and missing the entire season.
Problem #3: Tate isn't making nearly as compelling of an argument as Foster did. I already addressed this in No. 1 above ("The Ben Tate Argument"), so just to sum up, 116 yards, 4.8 YPC and one TD isn't nearly as impressive as 231 yards, 7.0 YPC and three TDs. Foster out-performed Slaton, so he took the job from him. It wasn't a question of loyalty, it was a question of who performed better. Until Tate does the same thing (which he hasn't even come close to doing), the job will be Foster's to lose.
Bottom Line:
Arian Foster is not a fantasy bust (yet). If you have him on your team, you probably got beat in Week 1 (unless you drafted early and your opponent picked Manning in the second round—then you had a chance). And he'll probably be limited in Week 2 as he comes off his injury. But as long as he doesn't have any setbacks, he will go back to his feature back role in Week 3 and everyone who took him in the first round will be happy they did. Keep in mind that Fantasy Football is a week-to-week battle. No one will go undefeated the whole season, so losing Week 1 and 2 isn't the end of the world. You just have to fight your way into the playoffs (I started 0-3 last year and made the playoffs, so it's doable after losing the first two weeks).
Let's all stop overreacting and jumping to conclusions after the first week. Foster was the league's leading rusher last year, he's not losing his starting job this easily.