Give Me Some Moore of That: Week 3 Fantasy Football Waiver Wire Preview
September 20, 2011
Ezra Shaw/Getty Images
The players we're about to discuss are owned in less than 50 percent of ESPN fantasy football leagues.  However, I suspect that will change come Wednesday morning, or whenever it is they get around to running waivers. 
If you don't see your favorite Week 3 waiver wire stud listed, don't get your panties in a bunch.  He is probably owned in 51 percent of leagues, isn't really a stud or I just simply missed him (but come on, that last one's pretty unlikely).  
But please, by all means, use the comments section to point out my shortcomings as a fantasy football analyst, writer and overall human being.  
Okay, now on to the show!
Quarterbacks
Rex Grossman, WAS

Grossman had a juicy matchup in Week 2 and failed to take over the game as he did in Week 1.  We were reminded, for a while at least, that this is indeed Rex Grossman and that he's not going to be good all of the time. 
In the end, Grossman threw for 291 yards, two touchdowns, and a couple of interceptions.  Not the greatest performance ever, but for a fantasy team struggling after losing Peyton Manning, not too shabby, either. 
Week 3 brings a battered and bruised Dallas Cowboys secondary which should be hobbled just enough to allow Grossman his third consecutive solid outing.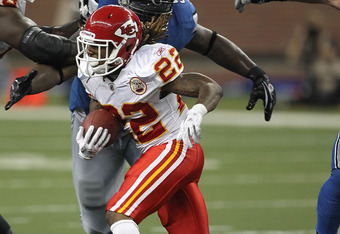 Dave Reginek/Getty Images
Mike Kafka, PHI

Kafka isn't a guy you're rushing out to get in 10- or 12-team fantasy leagues.  But if you missed out on quarterbacks Cam Newton or Ryan Fitzpatrick in Week 1, and you need a replacement for QB Michael Vick in Week 3, you may be stuck with Kafka.
But it's not all bad.  Kafka managed the game when asked to, completing seven of his nine passes for 78 yards. 
Kafka probably should have had some more opportunities to make plays if WR Jeremy Maclin had held on to the fourth-down pass, but we'll give Maclin a pass after getting his bell rung by cheap-shot artist CB Duante Robinson.
If you're forced to start Kafka in Week 3 because the vultures in your league have picked the waiver wire clean, do so with the understanding that he's probably not going to put up big numbers, but at least you'll have a warm body in the game.
Running Back

Dexter McCluster, KSC

Unless you live with this guy,  you've probably heard the disheartening news on Chiefs RB Jamaal Charles.  So what's a Charles owner to do (besides throw things at his TV, drink heavily and fall asleep in the fetal position on the floor with his thumb in his mouth)?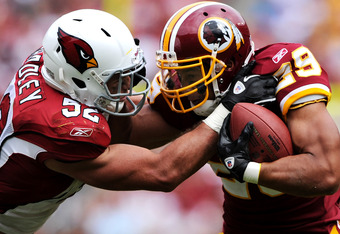 Patrick Smith/Getty Images
Well, you could act like a man, stop crying and pick up a running back who averaged a very Charlesesque 6.4 yards per carry on his eight attempts toting the rock.
Please don't confuse McCluster and Charles.  They're not the same.  McCluster is going to fill a roster spot, whereas Charles could carry your team.  But McCluster has plenty of upside in an offense now completely devoid of weapons.
As a bonus if you play in Yahoo! fantasy football leagues, you can start McCluster as a running back or a wide receiver.  Lucky you.
Roy Helu, Jr., WAS

Helu was the man drafted by the Redskins to take the starting job, but then they went and traded a sack of footballs for RB Tim Hightower, and Helu lost his grip on the starting job. 
At least, temporarily. 
Week 2 seemed to bring out the best in Helu and a bit more of the same in Hightower.  Helu carried the ball 10 times for 74 yards and tacked on three receptions for 38 yards for good measure. 
I wonder if Hightower can hear the footsteps.
If you've followed the NFL for any significant period of time, you're well aware of Redskins head coach Mike Shanahan's proclivity for rotating running backs.  Since we know that history has a nasty habit of repeating itself, don't be the Hightower owner caught with his pants down as Helu passes you by.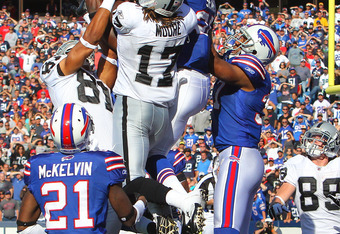 Tom Szczerbowski/Getty Images
Helu is worth at least a speculative add in leagues with 10 teams or more and is almost a mandatory addition for squads currently rostering Hightower.  
Isaac Redman, PIT

Unless you also own some RB Rashard Mendenhall stock, don't go rushing out to pick up Redman in your 10-team league.  Though you probably should be moving pretty quickly if he still available in your 14-team league. 
Keep an eye on this guy.  He has simply performed in the limited opportunities he's earned this year.
While it's hard to imagine Mendenhall losing touches in a meaningful situation, this is the NFL.  And pretty much anything can happen.
Wide Receivers

Denarius Moore, OAK

If Oakland Raiders owner and general manager Al Davis were to open the "Al Davis School of General Managing," I suspect there would only be one class.  
The class would only be five minutes long and would consist primarily of putting up pictures on the wall of all the fastest players in that year's NFL draft, blindfolding oneself and then chucking darts at the wall to determine which players will be the newest members of the Oakland Raiders.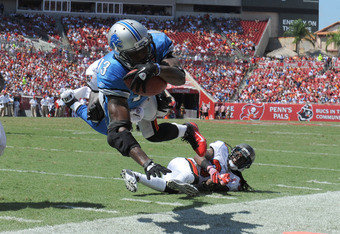 Al Messerschmidt/Getty Images
Even using such an unconventional method of talent evaluation, Davis manages to find stardom every now and again. 
This time with rookie (soon to be sensation) Denarius Moore.
Moore is the definition of manchild.  The Raiders will have no choice but to give him significant snaps, even when all the Raider wide receivers are healthy.
Moore had a spectacular preseason but received few opportunities to make plays in Week 1.  After his dominant showing in Week 2, Moore should be your most important waiver wire priority
Devery Henderson, NOS

How Henderson is owned in less than 50 percent of leagues is beyond me.  What did people do when they heard that WR Marques Colston was going to miss at least four weeks? 
Did they just throw in the towel for the entire season and yell, "Screw it!"?
Whatever the reason, if Henderson is available in your league, you'll want to add him after his 103-yard and one touchdown performance on Sunday against the Chicago Bears.
There really isn't a lot to cover here.  The Saints offense is dynamic.  Henderson is part of the offense.  Henderson is worth rostering, if not starting, until Colston returns.  Done.  
Eric Decker, DEN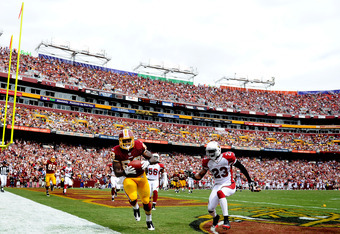 Patrick Smith/Getty Images
Decker was labeled a poor man's Larry Fitzgerald when he entered the league in 2010.  If you're going to a poor man's anything, Fitzgerald is a pretty good choice.
Due to injury, Decker never saw significant playing time last season.  Entering 2011, Decker was primed for a breakout season.
When Brandon Lloyd didn't start, and after Bronco wide receiver Eddie Royal departed with injury, Decker stepped up and delivered five receptions for 113 yards and two touchdowns.
This might be the best performance Decker has all season.  But that depends primarily on the health of Lloyd. 
Should Lloyd find it necessary to miss another week of action, Decker may be worth plugging in your starting lineup. 
If you have a deep bench, don't hesitate to grab and stash Decker.
David Nelson, BUF

Before you people start in with the questions, let's put this one to rest.  No, David Nelson is not the son of Ricky Nelson. 
Now that we've put those ugly rumors to bed, on to business at hand.
For the second week in a row, Nelson played a significant role in the offense, catching 10 of his 13 targets for 83 yards and a touchdown.  As long as QB Ryan Fitzpatrick continues to look crisp and confident, Nelson will continue to increase in value. 
For those concerned about whether the Bills offense can support two wide receivers worth starting for fantasy purposes, the answer is a resounding, "Yes!"
Nate Burleson, DET
The only acceptable reason for leaving Lions WR Nate Burleson on the waiver wire is if you play in a six-team league that doesn't roster wide receivers.  Seriously.
On some Sunday evening around Week 6 or Week 7, you're going to be watching highlights from the day's games and see a recap of the Lions yet again destroying another defense, and you're going to wish you had part of that offense.
This is your chance.  Go get Burleson, even if you are totally stacked at the wide receiver position. 
There is a very good chance he finishes as a top 24 wide receiver by year's end.  He's just missed scoring twice this season, which means the touchdowns are coming.
It's pretty much up to you.  Either you can snap him up now, before the rest of your league catches on, or you can wait until he does blow up and miss your shot.
Your choice.
Because the wide receiver position has plenty of guys worth at least keeping an eye on, here are a few honorable mentions:
Danario Alexander, STL

I love this kid.  He's got amazing size and skill but also has two flat tires.  
If he were able to stay healthy for more than two games at a time, he could put up some monster numbers.  But the reality is simply that Alexander will look good for a couple games and then miss the next eight with knee problems.  
Stash him if you have a spot available, and hope this is the year he can stay healthy.  But don't be afraid to release him back in to the wild if things go south. 
Jerome Simpson, CIN
Simpson ended 2010 on high note, and with WR A.J. Green commanding the attention of the best opposing cornerbacks, Simpson is going to be up and down but should have many more ups.
Titus Young, DET
Young is a rookie, but is earning the trust of QB Matt Stafford as he caught five of his seven targets for 89 yards.  Worth a stash in deeper leagues.
Dane Sanzenbacher, CHI
Eventually, a wide receiver is going to have to step up in this offense.  Since no one else is willing to be the man, it might fall on Sanzenbacher by default.  Not yet worth picking up, but keep an eye on him.
Kevin Ogletree, DAL
The rumor is that WR Miles Austin will miss the next four weeks in order to fully heal his gimpy hamstring.  Ogletree is the logical replacement and is worth an add for Austin owners and owners of teams with depleted receiving corps. 
TIGHT END
Fred Davis, WAS
Two weeks, two monster games.  What else do you want him to do?  Fart rainbows? 
The man has 11 receptions, 191 yards and a touchdown.  And he's probably sitting on your waiver wire, just waiting for you to drop some stiff like Jacksonville TE Marcedes Lewis and pick him up.
Do the man a favor and add him this week.  
I appreciate your time and attention over the last four minutes and 22 seconds.
Yes, I timed you.
Please feel free to leave any questions, comments or concerns in the appropriately entitled Comments Section found below.  
Best of luck this week!
Do you like what I did there?  Then follow me on Twitter.