Fantasy Football Week 3 Start 'Em Sit 'Em: 4 Players to Start in Your Lineup
September 21, 2011
Bob Levey/Getty Images
Two weeks are in the fantasy football books, and while millions of fantasy owners are feeling as good as the Green Bay Packers, millions of others are feeling as lousy as the Kansas City Chiefs.
If you are 2-0, bully for you! If you are 0-2, this is a must-win week for you. And if you are 1-1 like most of the fantasy football world, you probably have no idea whether your team is any good yet, so this week will swing your thoughts in one direction or the other. 
Here are four players (kind of) who I believe are must-starts this week in fantasy football:
If you are worried about Arian Foster sneaking in to reclaim his starting job, don't bother. Foster is not coming back until he proves he is healthier than Lance Armstrong. If you are worried about Derrick Ward stealing some of Tate's carries, don't fret because he is most likely out because of an ankle injury.
If you are worried that the New Orleans Saints are going to hold Tate to 50 yards and no touchdowns, think again. The Saints might be ranked seventh against the run after two weeks, but that is misleading. They are allowing 4.2 yards per carry, and in Week 1 Green Bay had no need to run against them because Aaron Rodgers was tearing the Saints secondary up repeatedly.
In Week 2, the Chicago Bears were trailing the Saints for the majority of their game, so running plays for Matt Forte were ripped out of Mike Martz's playbook in the second half.
It is not that the Saints are stopping the run, it is that no one is attempting to run at them. Opponents have rushed the ball 39 times against New Orleans, third-lowest in the league.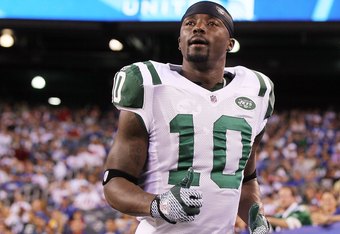 Jim McIsaac/Getty Images
Tate is a powerful tailback running behind an above-average offensive line and facing a front seven that cannot get extra help from safeties because of the threat of Pro Bowl receiver Andre Johnson getting one-on-one coverage. I think the Houston-New Orleans game will be a high-scoring affair and that Tate should run for 100 yards and a touchdown, at worst.   

Santonio Holmes, New York Jets
Holmes appears to be back to being 100 percent after a week of dealing with leg troubles, and he got himself healthy at an opportune time. He faces a Nnamdi Asomugha-less secondary who has looked lost without its top cover corner.
Oakland has allowed Denver's Kyle Orton and Buffalo's Ryan Fitzpatrick to riddle its secondary for a combined 568 passing yards and four touchdowns over the first two weeks. This ain't Aaron Rodgers and Philip Rivers I'm talking about here, people! 
Another thing going in Holmes' favor is Mark Sanchez's blind spot when it comes to Plaxico Burress. Sanchez has ignored Burress for six of the eight quarters the Jets have played this season, only completing passes to Mr. Gun Control during the second half of the win over Dallas when the Cowboys lost so many defensive backs that Tony Romo and Rob Ryan ended up manning the corners. 
Holmes only had 112 yards and one touchdown combined in New York's two victories. I expect him to put up those same numbers in a win over the Raiders this weekend. 

Rob Gronkowski, New England Patriots
At this juncture Gronkowski is probably a must-play no matter who New England is facing, what the weather conditions are or how bad Tom Brady's hair looks. But now that his tight-end-in-crime Aaron Hernandez has been shelved by a knee injury, the Polish Ben Coates has to be used by all fantasy owners. 
Gronkowski has been unstoppable in his first two contests, posting back-to-back 86-yard performances and scoring a trio of touchdowns. In fact all of New England's receivers have been unstoppable except for Chad Ochocinco, and the only thing that has shut him down is the Patriots playbook.  
But you have to wonder how many more targets and receptions Gronkowski will get without Hernandez around since Hernandez and Gronkowski seem to split up the passes thrown to tight ends evenly. A couple 10-catch, 100-yard games from Gronkowski while Hernandez is away would hardly be surprising.   
   
Look for Gronkowski to have a field day this weekend against a Buffalo Bills defense that had the nerve to allow the poster boy for mediocrity, Oakland's Jason Campbell, to throw for 323 yards against them. There are not many defenders who can cover Gronkowski, and certainly none of them are on Buffalo's roster.

The Pittsburgh Steelers defense
I am counting the entire Steelers defense as one player for creative purposes of this article, so please hold off on poking fun at my math skills or headline writing ability. 
I know the "Steel Curtain" looked like the "Silk Curtain" Week 1 against the Baltimore Ravens. Tarvaris Jackson is a multi-vitamin for defenses, though. Pittsburgh's vaunted defense is back to normal after their simple shutout of the Seattle Seahawks this past Sunday, and they are arguably up against a worse offense this week.    
Some fantasy owners are still a tad worried about the Steelers since they did not create any turnovers in the Seattle shutout, but have no fear, Kerry Collins is here!
Collins and his Indianapolis Colts are ranked 29th in total offense, 29th in scoring offense and 27th in passing offense. And Indy is ranked that low despite playing against two defenses, Houston and Cleveland, that will never be confused with the 1985 Chicago Bears.  .  
Considering the Steelers did not lose any key components from last season's AFC Championship team, fantasy owners knew they would again be one of the top defenses to own. One bad game should not have been enough to write them off as being too old, although one owner in a league of mine actually dropped the Steelers after the Baltimore fiasco. That was about as wise as Jacksonville releasing David Garrard so Luke McCown could start. 
Expect four sacks and three turnovers from the Pittsburgh defense this Sunday night. Do not be surprised if the Colts score some meaningless points and pile up clumps of yardage late in the game, though.
The Steelers still have trouble in the secondary when offenses spread out four or five receivers and throw constantly, and that is what the Colts will likely do in the second half since they will be trailing and have a decent receiving corps led by Reggie Wayne and Dallas Clark.