FedEx Finale: Mahan, Baddeley, Even Phil Mickelson Have a Chance at $10 Million
September 24, 2011
Sam Greenwood/Getty Images
Kathy Bissell
East Lake Golf Club, Atlanta, GA—Phil Mickelson has already won a Tour Championship at East Lake Golf Club. He'd like to win another. 
"I feel like I can just get a couple of putts on the greens—and the greens are just beautiful, they're spectacular—if I can get a few to go, I can make at run at the lead tomorrow," he said. He posted his best round of the week today, a 67. "Toward the end I made a couple of six-footers that were helpful, but I left a few out there on the greens the first eight holes for sure."
He said he feels that he is striking the ball well, but just not getting low scores out of it, turning potential 63s and 64s into 68s and 69s this week.
"The last 11 holes, I made a couple of putts and ended up shooting under par to at least get myself in position where, if I can turn it around tomorrow and get a few of those putts to go, I can make a run at the leaders,"  he added.
To take his mind off golf, he's enrolled in the CBS Fantasy Football League with help from his brother-in-law.
"I didn't know how to do it, so he's been helping me," Mickelson explained.
The two of them are a team. According to Mickelson, the division of labor is split up as follows: his brother-in-law makes the picks, and Phil does the talking.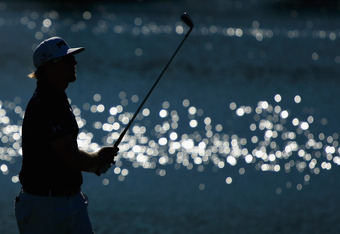 Scott Halleran/Getty Images
Mickelson is four behind the tournament leaders Hunter Mahan and Aaron Baddeley. Depending on what they do, he has a realistic chance and has no fear of going low. 
Hunter Mahan found out he was in first place in FedEx points when NBC's Jimmy Roberts told him.  Mahan is pretty sure it won't last, and he is totally sure the instantaneous math needed is impossible.
"It's one of those things where it's like you can't even worry about it because you can't do the math that fast," he said about trying to figure out the points standings while out on the course during a round.    
What he said he can do is to try to win the Tour Championship because that's his only shot at the top prize anyway. 
"It's going to be kind of weird tomorrow since the top five guys aren't really in contention except for Luke [Donald]," Mahan added. "I could win by ten shots tomorrow and still finish fifth on the FedExCup. You just don't know."
Aaron Baddeley is trying to win the Tour Championship so that Greg Norman will pick him for the Presidents Cup team. He shot a 64 on Saturday to tie for the lead.
"Talking to Greg on Monday, I knew I had to play well this week to impress him," he said. "He told me he was just going to watch this week. He told me one other guy he was going to watch, and that was about it. He said, 'go out, play good, win the tournament.' I said all right."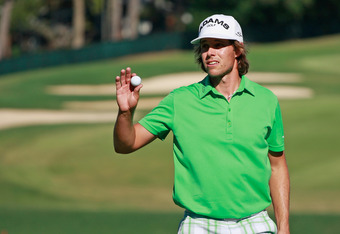 Scott Halleran/Getty Images
The "other guy" is John Senden.
Baddeley won at the Northern Trust Open at Riviera CC last winter, but he knows that it's who is playing well now that will make the difference.  
Norman was one of Baddeley's childhood golf heroes. He saw him when he was a youngster at the 1995 Australian Open. The look in Norman's eyes on the course amazed him. Norman won that tournament. 
Two years later, he was playing in a tournament that Norman was also playing in and wrote to Norman to ask if they could play a practice round.
"I went up to him on the practice fairway when he was warming up for his pro-am and just said, 'Hey, Greg, I'm Aaron and we're playing tomorrow,'" Baddeley recalled. "I was still nervous an hour after I met him." Baddeley was 17 then. 
"My main focus is playing good so I can impress Greg and try to win a golf tournament," Baddeley explained. Since he is 27th in FedEx points, it is unlikely that he will win the top prize.
Others who have excellent chances to win the Tour Championship:
Jason Day and K.J.Choi, both tied at -7, two back of the leaders.
Bill Haas and Luke Donald, both tied at -6, three back of the leaders.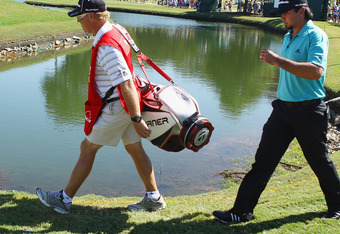 Scott Halleran/Getty Images
Mickelson and Fredrik Jacobson, both tied at -5.
Should Baddeley or Mahan fail to deliver a superb round, one of the others could win the Tour Championship. Of the top ten, Luke Donald still has the best shot at the $10 million prize.
Quote of the year: Phil Mickelson on autographs:
"I think that as a player we want to come out and compete and not have distractions, so to not sign before the round or during the round is probably the best way to go. But you have to set aside 10, 15, 20 minutes, whatever it was, after the round, because it's these people here that allow us to play golf for a living, and we need to show that appreciation."
Kathy Bissell is a Golf Writer for Bleacher Report. Unless otherwise noted, all quotes were obtained first-hand or from official interview materials from the USGA, PGA Tour or PGA of America.