Yoann Gourcuff Returns for Olympique Lyonnais in 3-1 Romp over Nancy
October 16, 2011
Michael Steele/Getty Images
Yoann Gourcuff's reintegration into Lyon's first-team turned out to be nothing more than a run-out, so convincing was the 3-0 lead at the Stade Gerland when the playmaker entered play.
With a crucial Champions League tie against Real Madrid on next week's agenda, the return of a player of Gourcuff's technical quality and experience was a welcome sign indeed for Les Gones—who famously knocked the Madridistas out of the Champions League Round of 16 in 2010.
The 25-year-old midfielder looked antsy in the Lyon dugout before the match, drumming his feet on the turf, raring to finally play football after so many months spent languishing on the sideline.
He didn't have long to wait before entering the field of play, however. Clement Grenier, one of the brightest talents on display at the U-20 World Cup for France this past summer, and a starter for Lyon on the night, was forced off just before halftime with an apparent injury.
The stage was set for Gourcuff as early as the 43rd minute.
A rousing home reception welcomed back the embattled French midfielder as he jogged onto the pitch. It was just the sort of confidence boost to reinvigorate Gourcuff, whose career has stalled, symbolically as well as literally. He has been on the sidelines all summer undergoing a grueling recovery process from ankle surgery.
Gourcuff had missed the final four matches of European qualifying for Les Bleus, and though his spot in next summer's championships is by no means in any danger, he would certainly have enjoyed being on the pitch after Tuesday's match against Bosnia and Herzegovina—when France sealed their automatic inclusion in Euro 2012 with a 1-1 draw.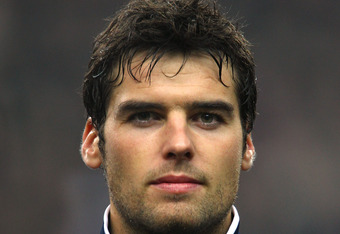 Alex Livesey/Getty Images
Samir Nasri, Gourcuff's main rival for the attacking midfield position with the national team, was sensational in both recent fixtures against Albania and then Bosnia, scoring the penalty that turned out to spell French salvation.
While Gourcuff could theoretically slot into the holding creative role Yohan Cabaye currently enjoys with Les Bleus, it will take a return to the sort of form Yoann was in from 2008 to the start of 2010 to unseat the Newcastle playmaker.
Inconsistency has rocked Gourcuff ever since his move to Lyon. He has shown brief glimpses of the prowess he once displayed on weekly basis, but nothing continuous.
His first action on Saturday entailed a 40-yard free kick. That iconic run-up was still the same, unfettered by the months of repose, but the delivery was woefully inadequate. Images conjured of an astronaut returning to land, taking his first few steps after a long sojourn in space. Awkward—what had once come as naturally as breathing seemed foreign.
It was far below the usual standards of the Bretagne-born player, and it will take some time for Gourcuff to find his legs and recover that scintillating vein of form so in danger of becoming erstwhile during some of his most trying spells last season.
A crunching challenge by Nancy's Jordan Loties on Gourcuff had some Lyonnais fans' hearts lurching to their mouths, but the former 22 million euro signing bounced up as if nothing had happened. An encouraging sign, to be sure.
Slotting into his favored position of attacking midfielder behind Lyon front man Bafetimi Gomis, Gourcuff was given license to roam by coach Remi Garde. Worries that he might struggle to integrate the 4-2-3-1 used by the new boss, a departure from former coach Claude Puel's more streamlined 4-3-3, were widely allayed.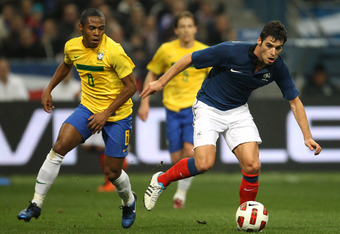 Alex Livesey/Getty Images
While there are some—Gourcuff's father Christian, manager of FC Lorient, among them—who believe Gourcuff's future will be in that sort of creative holding role in central midfield that Cabaye has made his own with France, and Andrea Pirlo has assumed for years for club and country, for now, that attacking midfield position looks to be the one most enjoyed by the Lyon and France No. 8.
With the visitors doing little in the way of threatening the Lyon goal, electing for waste instead of industrious link-up play, Gourcuff was free to drift about the middle third, combining well with teammates. He was able to execute some of the slick dribbling that had won him such renown in previous years (I'll never forget watching one glorious feint-and-subsequent-shimmy against Bayern Munich in late '09—it was pure poetry), and even launched a well-timed run that nearly saw him bag a goal.
Considering the relentless energy that accompanied the first half, the second was always going to struggle to keep the same rhythm. Still, it might have been the perfect situation for Gourcuff to come back. An encounter that had gone from hot to tepid by the time he'd entered—ideal for a return.
His passes were mostly of the perfectly-weighted variety, sailing through the air before dropping perfectly for their intended targets. Gourcuff truly is sensational to watch at times.
While Madrid will certainly be number of notches above Nancy, and perhaps a better barometer of where Gourcuff is at physically, Saturday's match was always going to be about hope. 
The playmaker looked fully fit, if a little fatigued from lack of fitness.
It was an encouraging sign for Lyon. For the for the rest of French football, not so much.