Oakland vs. San Diego: The Raider Blueprint for Success
November 10, 2011
Brian Bahr/Getty Images
The Oakland Raiders roll into San Diego tonight for a rare Thursday night AFC West showdown with playoff implications hanging in the balance. Both teams are banged up to put it mildly, but even without their most important offensive weapon, there is reason to believe that with the right game plan the Raiders can leave the "Q" with a victory and sole possession of first place in the division.
Here is the blueprint for success in tonight's game.
Blitz and Blitz Often
Philip Rivers is a different man this year, but don't be mistaken—he is still a very dangerous quarterback that has the ability to take over a football game and dominate his opponent. Coach Chuck Bresnahan must dial up multiple blitz packages to put pressure on Rivers and commit to making sure he never gets comfortable in the pocket.
Rivers has shown that, unlike in past years, he is prone to committing costly mistakes that result in turnovers when he is uncomfortable and rushed to make throws.
If Rivers is given time with a three- or four-man rush, he will literally pick apart the injury-riddled and completely unimpressive Raider secondary.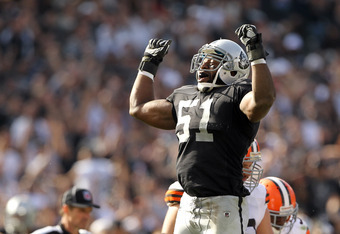 Ezra Shaw/Getty Images
The blitzes must be disguised better than in prior weeks, and the depth from which the safeties blitz must be decreased to give them a chance to make an impact.
Limit the Amount of Throws for Carson Palmer
The last thing this football teams needs is its leader playing the "my quarterback is better than your quarterback game." The fans know the trade was a great one, so there is no need for Hue to push for Carson to have 350 yards passing to justify the organization's decision.
Limit the passing attempts and everything else will fall into place.
Focus on the Power Running Game
Bush left, Bush right, Bush off tackle is what I hope to hear for the entire game tonight. Hue has developed a really bad habit of completely abandoning a running game that has had great success in both of the preceding games.
Focus on what we do best, and then get Marcel Reece, Taiwan Jones and Michael Bush one on one with linebackers so we can capitalize on personnel mismatches in space.
Utilize Offensive Personnel Properly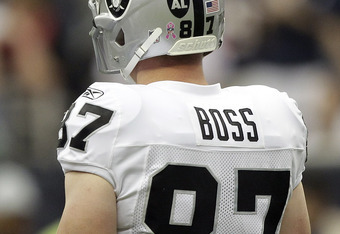 Bob Levey/Getty Images
Kevin Boss has to be involved early and often. Shaun Phillips is out, and the earlier we can take advantage of utilizing short intermediate passes in the middle of the field, the better we will fare. To have a chance to win, we must establish the tight end as a legitimate offensive threat in an effort to shift the focal point of the defense.
Darrius Heyward-Bey needs to be used on slants, skinny posts, comebacks and wheel routes. Heyward-Bey's progress has been impressive, but his vertical game still needs to be developed before he becomes a legitimate threat. The practice field is the appropriate venue for this development, not the main stage on Thursday night.
If Palmer can get the ball to Heyward-Bey's space, he can do what he does best and make defenders miss and break tackles. Utilized properly, he can be a dangerous weapon.
Finding ways to get Jacoby Ford the ball on deeper routes will open up the underneath stuff for the rest of the offense. Ford has shown that he can get open and make the big catch when it counts. Use that sparingly, and it is a recipe for success.
Limit Stupid Penalties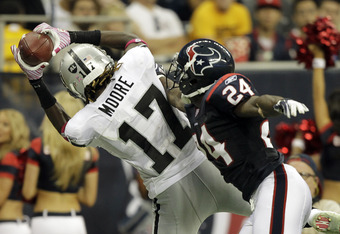 Bob Levey/Getty Images
Needless to say, the offensive line regressed last week. If the Raiders can limit their penalties to fewer than seven for no more than -90 yards, the Raiders have an excellent chance of winning.
Control the Clock
The less time that Philip Rivers has the ball in his hands, the less he can hurt you. Tonight's objective should be to slow the game down as much as possible and limit unnecessary risks on offense.
Find The Fire
Tonight marks the start of a new season. We are at the halfway point, and in first place. This team controls its own destiny. Passion and persistence needs to be the mantra for the Raider locker room if they are serious about making a playoff run.