Juventus vs. Cesena: Juve Breaks Through Cesena Defense, Wins 2-0
December 4, 2011
Valerio Pennicino/Getty Images
There were two things that appeared in the Juventus-Cesena game in abundance: Juventus ball possession and blood from Alessandro Del Piero's head.

The former came from a dominant performance from the Juventus midfield (specifically Arturo Vidal), and the latter came from an unfortunate incident involving Il Capitano and Cesena player Marco Rossi. It was a bizarre and unfortunate moment in a game that provided many such moments.
Del Piero, who had been playing well for the short amount of time he was in the game, was stretchered off the field. He would later receive eight stitches at the stadium. It is unfortunate that he had to leave the game (and that the third and final substitution had to be used to replace him), but at least he did not receive any serious injuries.
One other bizarre moment came toward the end of the second half, when Cesena goalkeeper Francesco Antonioli fouled Emanuele Giaccherini. The foul was sort of inevitable given Giaccherini's timing, as he ran into Antonioli as the Cesena man was recovering from a ball save. With his arm sticking up, Antonioli knocked Giaccherini over, and the referee called the foul, awarded Juventus a penalty and red carded Antonioli.
I personally thought both calls were harsh, though the penalty was much more defensible than the red card. Both decisions are somewhat defensible (Antonioli's arm was up), but the red card was nonetheless a total overreaction. The box is the goalkeeper's area, and he's bound to collide with players. He wasn't intentionally trying to shove down Giaccherini. Still, the referee's decision stands.
Arturo Vidal took the penalty shot and easily converted it. The goal he scored was a nice cherry at the top of his especially sweet performance. His celebration was also something to note. He took pretend shots with another player (can't remember who). It was a pretty ballsy celebration from a player who was recently given a long-term suspension from the Chilean national team for coming back to the team hotel drunk. Clearly, Vidal has been undeterred by this setback.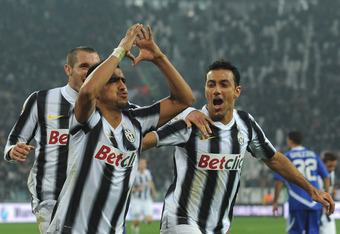 Valerio Pennicino/Getty Images
Vidal really took control of the midfield, on offense and defense. He almost scored before his penalty kick, off of a free kick. Vidal put a nice curve on the ball, but it sadly curved straight to the goalkeeper, who saved it. Still, Vidal provided an all important service for the team, and thanks to his efforts and the efforts of many other players, Juventus were able to hold the ball in Cesena's half for most of the game.
Cesena certainly parked the bus, and they were not going to let Juventus through easily. Juventus raided the Cesena goal for most of the match, with twenty nine shots in total, a record for a Serie A team this season.

This is, if anything, more of a testament to Cesena's tenacious defense. Indeed, with the exception of the Marchisio goal (which was past due anyway, given the amount of shots Juventus had) the Cesena squad did a pretty fine job of stopping goals. At least until Antonioli got his red card.
While Cesena may have done some fine defending in their back end, they utterly failed to retain any sort of possession, and they also failed to live up to their counter-attacking potential. Cesena had come into this game off of two straight wins, and they have talented attacking players like Adrian Mutu and Antonio Candreva, two ex-Juventino.

Mutu is a highly talented, if aging, player, and he seems to have conquered his demons. Regardless, he did not cause much trouble for the Juventus defense, save for a few quickly extinguished counters.
This game also saw further playing time for Fabio Quagliarella. Quags has finally started to regularly appear in coach Antonio Conte's game plans. He's made several consecutive appearances, and seems very likely to start a game in the near future. Quagliarella had a few chances, but he failed to really make Cesena pay. His closest came toward the end of the game, but the ball was aimed right into Stephan Lichtsteiner's back, and ricocheted away from goal.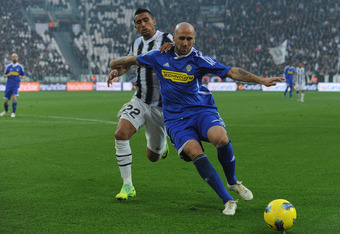 Valerio Pennicino/Getty Images
I was also hopeful that Milos Krasic would make an appearance, as he was selected as a substitute by Conte. However, the Del Piero injury forced Conte to use the final substitution slot, so there was no chance for Milos. Look for Milos to start making appearances soon though, as he also looked to be an option for Conte during the Napoli game.
Juventus came out of this game having achieved two things, primarily: First, they earned three points and retained their position atop the Serie A table. Second, they plainly defeated a provincial side that was parking the proverbial bus.

Juve has had very little problem with the big sides in Italy this year (though the Napoli game was a bit of a challenge) but they have suffered some disappointing draws against smaller sides. Today's game showed Conte's men facing 90 minutes of very defensive football and coming out with a win.
Next Monday, Conte's men face AS Roma. Roma lost to Fiorentina today, and three of their players (Fernando Gago, Bojan and Juan) got red cards. This is mostly good news for Juventus, but it also virtually guarantees that Roman sensation Francesco Totti will be playing against the Bianconeri. Totti has remained a threatening striker even into his old age.
Juventus go into the game against Roma with their midfield trio of Arturo Vidal, Andrea Pirlo, and Claudio Marchisio intact. Juventus have been missing either Pirlo or Marchisio for both of the past two games, but that complication has ended. Perhaps the reunion of the M-V-P group will be enough to see off Luis Enrique's Roma side.
On a final note, Juventus currently stands as the only unbeaten team in Europe. Praise Conte, and Forza Juve.


You can follow David Tenenbaum on Twitter: @DTenenbaum